Q. Tell us about yourself and how you came to be an artist…

A. Some of my earliest memories are of painting, having an idea and a vision and a need to capture it visually. As I got older, from about 10 years old, I had a very single minded ambition to go to art school. My grandma and aunts and uncles were artists and I felt it was something I belonged to. When I graduated I remember being told that the future after art school would unfold naturally, because if creating was truly a part of you, it's something you wouldn't be able to hold back in your life. My trajectory as an artist hasn't always been straightforward, but I do feel it is something which is always there.

Q. What is your creative process ?

A. I like working from photographs and from life. I store a lot of ideas in my head so the process becomes intuitive, and I work from one piece to another not necessarily knowing what will come next. I will sketch out a rough idea for a print or painting beforehand but I like to apply paint directly without a predetermined layout, and again work with colour in the same way. I tend to have a few projects or series on the go at the same time.

Q. Your main character trait ?

A. Messy, obsessive, silly…

Q. Describe your work in three words...

A. Intimate, reflective, vibrant.

Q. What's your favorite color ?

A. Right now I really love greeny yellows.

Q. Has your origins from Scotland influenced your practice in a way ?

A. I grew up in a small town on the west coast of Scotland. I think having access to the sea and countryside instilled a love of these places in me which extends to my practice, but a bigger influence is not where I am from necessarily but the people in that environment.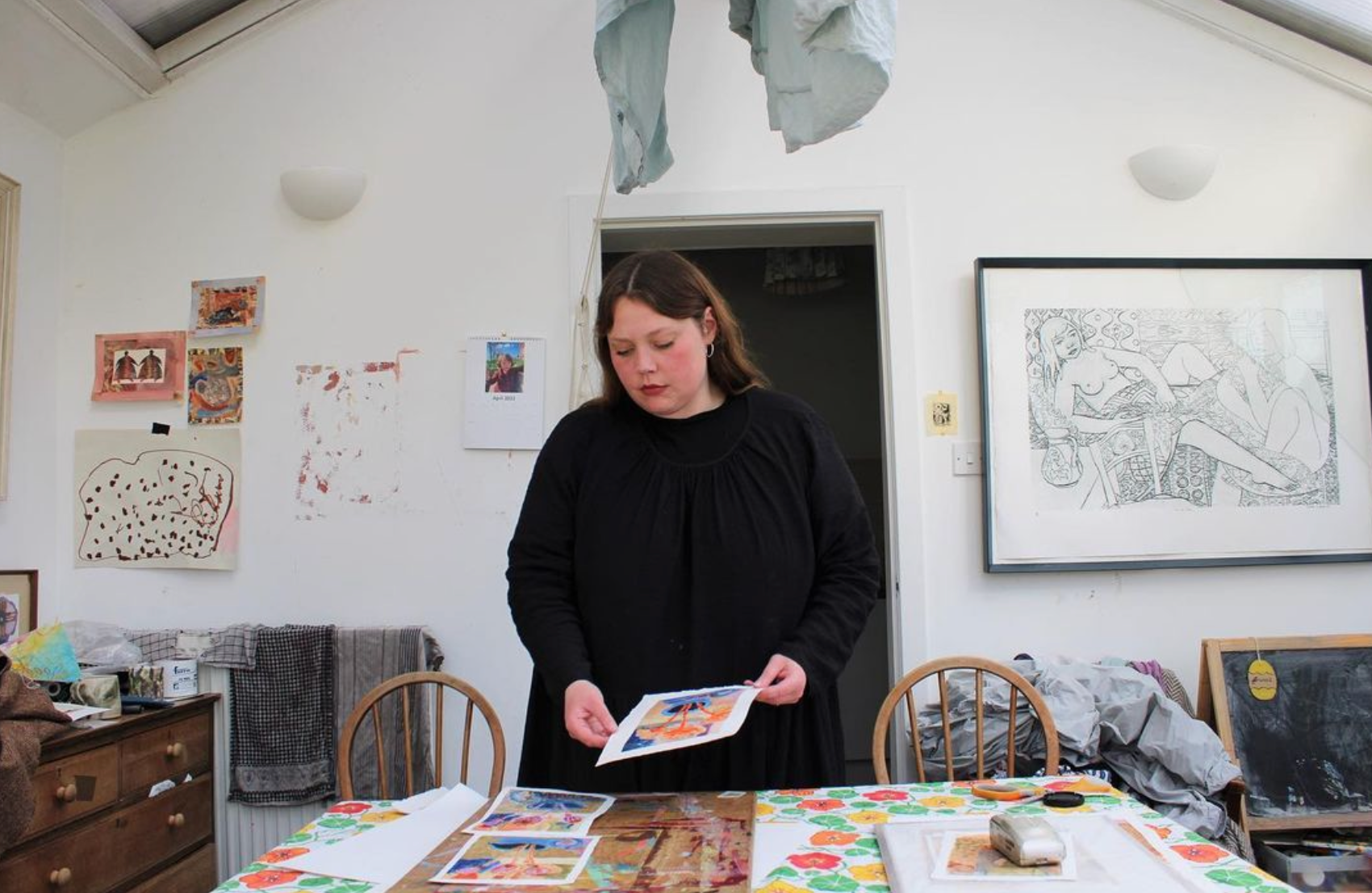 Q. There seems to be an energy of movement in your paintings. Do you somehow focus on the movement emanating from a body or form ?

A. Printmaking is a very expressive form of image making, and I use this technique to help breathe life into the people and ideas in my works. I focus on the size, direction and saturation of brush strokes to convey the emotion in my works; the subject matter in my works is very personal and draws on a lot of emotional energy. And the delight of printmaking is that the end result of pulling a print is a surprise. Part of the energy in the image is the relenting of control from the artist and giving way to spontaneity.

Q. Who are the contemporary art figures who influenced you the most ?

A. I'm drawn to artists who capture the different moments of everyday life and family dynamics, for example Milton and March Avery, Alice Neel, Catherine Repko, Norman Gilbert, Pierre Bonnard, Chantal Joffe. I've also always had a soft spot for German expressionist printmaking.

Q. What makes you laugh ?

Q. What do you enjoy the most about your friends ?

A. Connection, joking around, hugs...
Q. If you could have diner with anyone dead or alive ?

A. I'd probably choose to have dinner with friends from afar who I haven't seen in years.
Q. Are you experiencing any blocks in your practice right now ?

A. My mind works in a spontaneous way, and if I have an idea I need to get it down there and then. Being a parent and having responsibilities means I have designated, short periods of time for working, so juggling these two needs can sometimes be difficult and leads to a block, a disconnect.


Q. Your dream of happiness ?

Q. What makes you excited about the future ?

A. Watching my child grow up and all the memories to come, the artworks and opportunities to come, new places to visit, new plants to discover…

Q. Current state of mind ?

A. I'm currently bracing myself for the emotional transition from summer to autumn.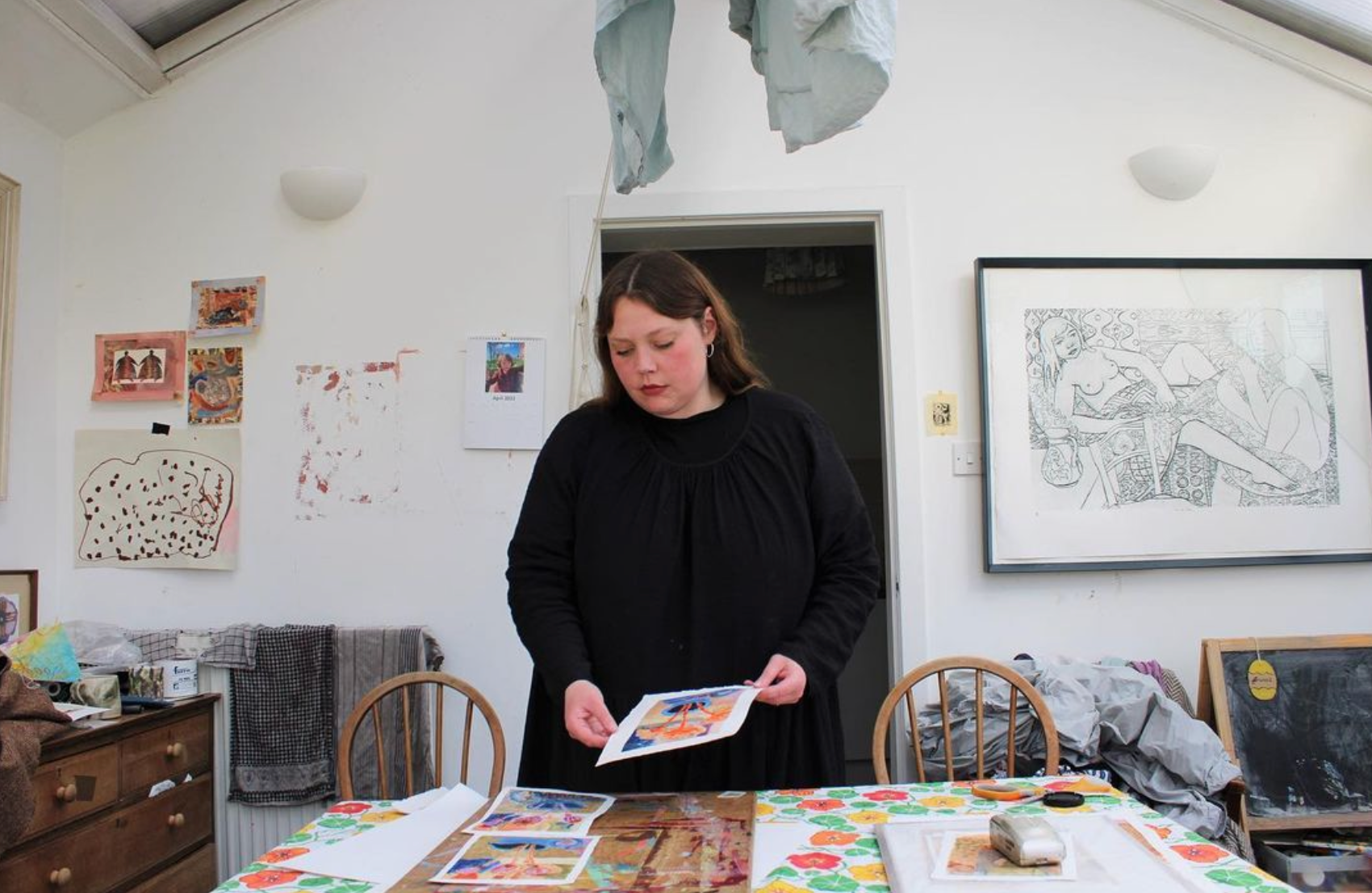 Regular price
Sale price
$600.00
Unit price
per