Q. Tell us about yourself and how you came to be an artist…

A. I'm French, based in Barcelona for more than 10 years. I started to paint when I started to feel trapped in a cubicle, staring at a computer screen all day. I was really bored at work. I wasn't using my creativity or my imagination. I wanted to do something more fulfilling, then I remembered that I really loved to paint when I was younger. So I took back my brushes.

Q. What is your creative process ?

A. I am a highly sensitive person. I process emotions deeply so I easily get overwhelmed.

Q. Your main character trait?

A. I get inspiration from every where, I like to stare at people, and find beauty in everyday life. I take plenty of notes, drawings, pictures and screenshots. All elements I use to compose my paintings. I also take photos of myself if I need a reference for a specific posture. I paint numerous layers of colors, I like to play with transparency of the colors. I usually paint a few artworks at a time. The hardest part for me is to finalize, lots of my artworks will never show up as they stay halfway done.

Q. Describe your work in three words...

A. Bold, sensual and intimate.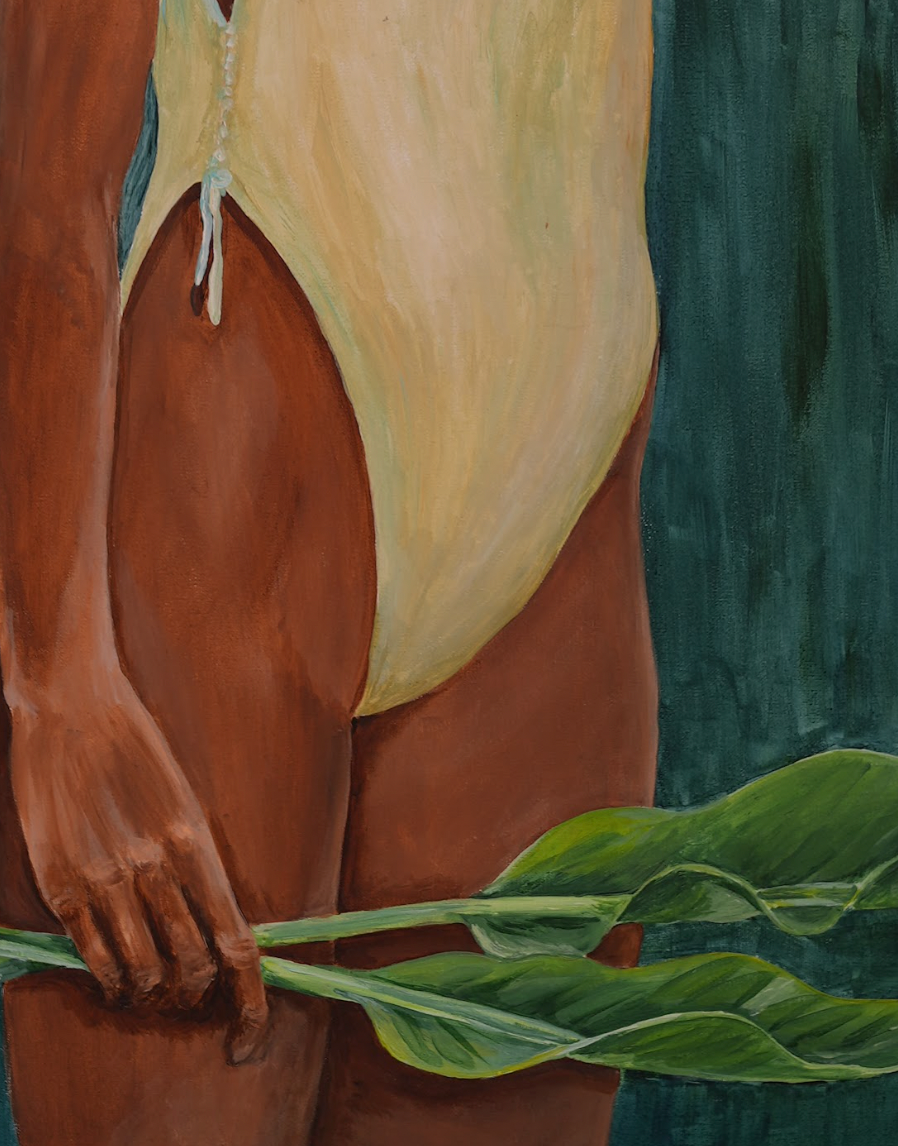 A. I like the shades between blue and green, turquoise, duck blue, aquamarine.

Q. Who are the contemporary art figures who influenced you the most?

A. Alice Neel, Shona Mc Andrew, David Hockney, Paul Gauguin. And I have always been fascinated by the Dada movement. 

A. Everything and nothing!

Q. What do you enjoy the most about your friends ?

A. Sharing a good meal and a good laugh.

Q. There seem to be an energy of movement in your paintings. Do you somehow focus on the movement emanating from a body or form ?

A. Women I paint are in movement, I like to think that my paintings are like polaroids capturing an intimate moment. They are not posing, they don't care about who is looking at them.
Regular price

Sale price

$1,800.00

Unit price

per
Q. If you could have diner with anyone dead or alive?

A. Serge Gainsbourg and Virginie Despentes.
Q. Your dream of happiness ?

A. I dream of having my atelier in a big ancient house near the mediterranean sea.

Q. What makes you excited about the future ?

A. Showing my work around.